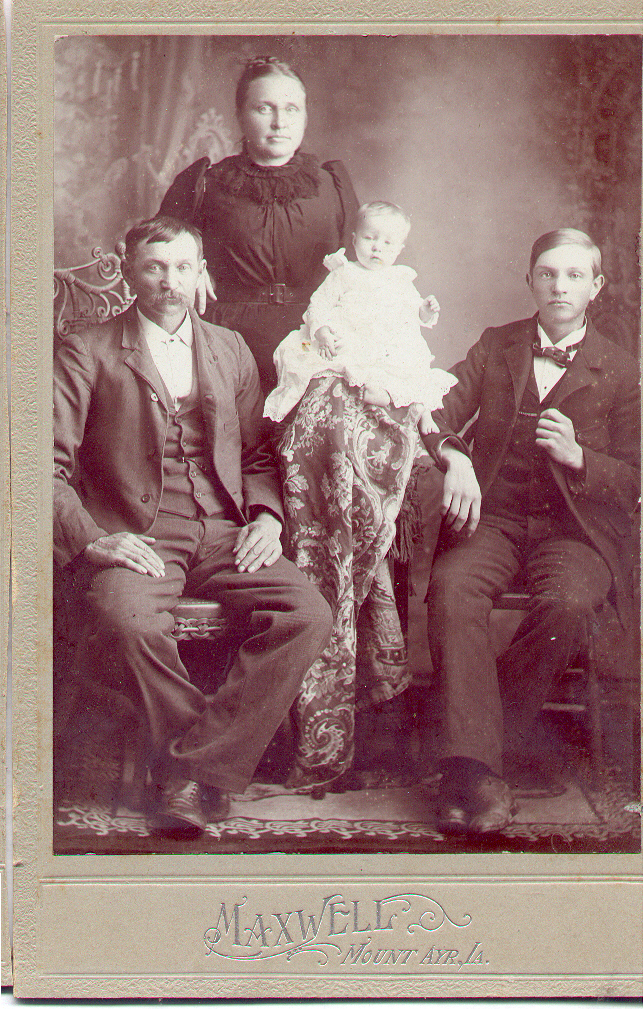 Rauch Family Photo Album - Picture 27
Comparing this woman to Evaline Rauch in the picture of Lazarus Rauch's children, I believe them to be the same person. Evaline Rauch married Thomas Joseph Price, Nov 16, 1882 in Andrew Co, Mo.
This picture was probably taken in 1900 and the 1900 census collaborates the family unit.
1900 Census Nodaway County, Independence Twp, Missouri, household #163
Thomas Price, born Sep 1856, age 43, married 18 yrs, born Ind; parents born Ohio
Evaline Price, born Dec 1865, age 34, married 18 yrs, 2 children both living; born Mo; parents born Pa and Mo
Clarence Price, born Aug 1883, age 16, born Mo; parents born Ind and Mo
Mary C. Price, born Apr 1899, age 1, born Mo; parents born Ind and Mo
Dorcas Rauch, motherinlaw, born May 1841, age 59, widow, 12 children; 8 living; born Mo parents born Va