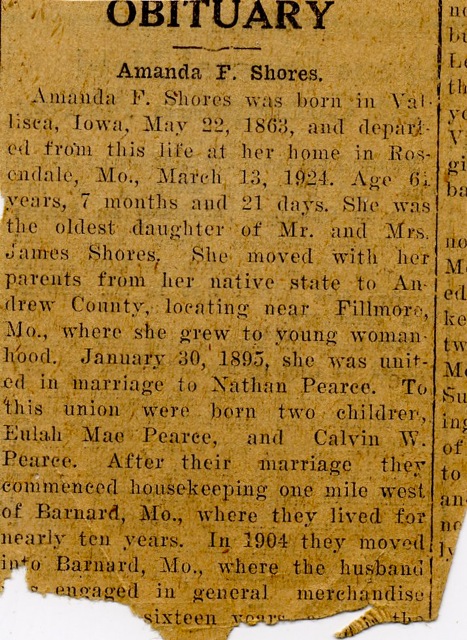 Amanda F. Shores Pearce
Amanda F. Shores was born in Vallisca, Iowa, May 22, 1863, and departed from this life at her home in Rosendale, Mo., March 13, 1924. Age 61 years, 7 months and 21 days. She was the oldest daughter of Mr and Mrs James Shores. She moved with her parents from her native state to Andrew County, locating near Fillmore, Mo., where she grew to young womanhood. January 30, 1895, she was united in marriage to Nathan Pearce. to this union were born two children, Eulah Mae Pearce, and Calvin W. Pearce. After their marriage they commenced housekeepingone mile west of Barnard, Mo., where they lived for nearly ten years. In 1904 they moved into Barnard, Mo., where the husband was engaged in general merchandise...
submitted by Richard Nelson:
This lady is in no way related to me. Her obit was on the back of the obit for Honora Flanagan Lyons. I thought that it might be of use to somebody.